Finalists
The 2015 Breakthrough Junior Challenge drew thousands of submissions, many outstanding, from over 80 countries. Here are the 15 videos that made it all the way to be chosen as Finalists from last year. But remember, these are for guidance and general interest only – to win the Challenge, your film needs to be original!
*Note: the maximum length of your video for this year's Challenge is 3 minutes.
Ryan Chester: 2015 winner
The winning film was Ryan Chester's clear, accurate and witty explanation of Einstein's special theory of relativity.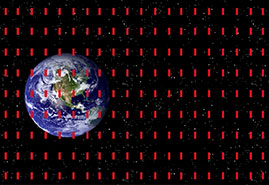 Ryan Chester, 18
United States

The Special Theory of Relativity
Ryan Chester, 18, United States
"Special Relativity has got to rank up there with one of the most revolutionary theories in physics. I've seen it referenced in science books and magazines for years. It was always mentioned in relationship to the idea that you can travel forward in time if you just move fast enough. Time dilation has been in science TV shows and movies like Interstellar so often that I've just accepted it without understanding why it was true. So when this challenge came around I thought this area was a great one to dig into."
2015 Finalist Submissions