Finalists 2018
Congratulations to the winner of the 2018 Breakthrough Junior Challenge, Samay Godika, and the 2018 Finalists, who created the top-scoring videos from 2018's competition. Finalist videos are teaching the world about science and math on the Khan Academy website, too.
Samay Godika: 2018 Winner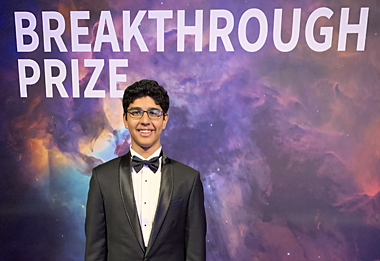 Samay Godika, 16, India
Circadian Rhythm
Samay Godika, 16, India
National Public School, Koramangala
Bio:
Samay Godika is a 16-year-old student from Bangalore, India. As well as winning the 2018 Breakthrough Junior Challenge, he was a Finalist and the Global Popular Vote Winner in the 2017 competition. In ninth grade, Samay was selected by Massachusetts Institute of Technology (MIT) for their Launch Entrepreneurship Program. Out of 80 students selected for the program, he was one of just seven ninth graders selected from all over the world. In 2013, Samay was part of a team that reached the National Round of the World Robotics Olympiad. In 2016, he was part of a team that collected over 500 pairs of uniforms and shoes and distributed them to underprivileged school-children. In December 2017, Samay was invited by TEDxLavelleRoad to give a talk about the various lessons he imbibed during his experience of the Breakthrough Junior Challenge and MIT Launch.
Acceptance remarks:
My interest in science has been driven by personal experiences. A family member has Parkinson's disease, and in that context I came across autophagy (the topic of my first Breakthrough Junior Challenge video). I myself suffer from asthma, and had noticed that attacks peaked in the early morning – which got me interested in Circadian Rhythm, the topic of my second video, which won the competition this year. A combination of neuroscience and data science skills could enable me to devise solutions for some of the most debilitating diseases faced by humanity. I am exploring the possibility of early diagnosis of Parkinson's disease by applying AI to voice data. Another area I am looking at is identifying autophagy-modulating compounds via computer vision. Overall, I am intrigued by the idea of leveraging multi-disciplinary topics to solve problems. Additionally, given the rapid pace of technological evolution, there is an urgent need to keep students engaged in STEM subjects. When taught using storytelling, animation and AR/VR, these subjects can hold the attention of young people. I would also like to explore a business that combines storytelling with teaching.
2018 Finalist Submissions